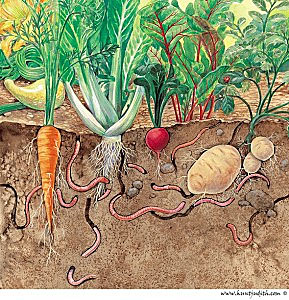 Not all soil was created equal. A good quality soil contains nutritious organic compounds, and a blend of sand and loam to help provide the best possible drainage. Our range of topsoils can be used to top up low-quality soils, to help you get the best out of your garden. Even if you are lucky enough to have good quality soil in your area, there are still lots of advantages that topsoil can provide.
1. Covering poor quality soil
It's a sad fact that many properties, particularly new build homes, have very poor quality soil. You might find plants struggle to thrive, or that weeds quickly take over your new garden. Some gardeners rely on bark or woodchip and mulch – but topsoil can help! There are several grades of topsoil available, and our Field No.6 Premium Grade Topsoil is the perfect way to give your garden the boost it needs. With its 70:30 mix of sandy loam and packed full of organic soil improvers – it forms a rich basis for your plants to thrive.
2. Lawn care and high-quality topsoil
A rich, nutrient-laden topsoil helps to lay a great foundation for a strong, healthy lawn. Before you lay turf, consider topping up your soil with topsoil that contains a high amount of loam. Loam helps hold enough water to keep your lawn healthy, but also drains well which helps guard against waterlogging and rot. Our specially blended Field No.26 Turfing Soil contains a good quantity of loam, which helps minimise settlement when you lay your new lawn on top of it.
3. Making beautiful raised beds
Even if you have great quality soil in your garden, if you're planning a raised bed, you'll probably need a top up. That's where high-quality topsoil is really important. Adding poor quality soil to your raised bed is likely to reduce the growth and vigour of your plants, or even prevent you from being able to grow anything at all. Field No.5 High-quality fine grade top soil makes an ideal choice to create a stunning raised flower bed, without breaking your budget.
4. Planting vegetable beds
If you thought that topsoil wasn't high enough quality for a veg bed – think again! High-quality topsoil like our Field No.15 Vegetable Planting Topsoil contains a diverse range of organic matter and soil conditioner, as well as sandy loam to help with drainage. You can also find specialist top soils for plants that prefer acidic conditions or even sandy wildflower soil if you are undertaking a re-wilding project!
So if you want to find the best quality topsoil in the Cambridgeshire or Suffolk area – get in touch. Even if you can't see the right soil for your needs on our website, do contact us to see what we can do. We can often blend the perfect topsoil for specific needs, with just the right amount of extras like composts, manure and soil improver.